Welcome to the 2023/24 school year! The PTA is committed to supporting our children and faculty in every way possible. We all know that the pandemic has created a massive burden on the education system and pushed every faculty, staff, and parent out of their comfort zone in some capacity. I don't know what the future holds but I do know the San Ramon community will stick together and get through with great attitudes and dedication!
Why do parents need to raise funds? Well, if we don't our teachers won't have enough paper or art supplies for the year. Our kids won't have the extra curricular activities like assemblies, field trips, art, and gardening. The PTA even has to help fund some staff salaries. It's only through the dedication of parents like you, that we are able to offer an exceptional experience for our community children.
Have you ever wondered where your donations go?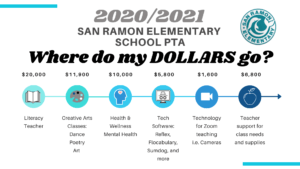 Below are some easy ways to support the PTA. We are also always looking for Volunteers to help with events and fundraisers. If you are opening to lending a few hours, please reach out to PTA@srepta.com.
We look forward to a wonderful year of learning and friendship!

– Your San Ramon Elementary PTA 2023/24
Does your company match donations to non-profit organizations? Check with your HR department! 
San Ramon Elementary School PTA is a 501c(3) charity. All donations are tax-deductible to the extent the law allows. Tax ID # 23-7059941 
Family Giving Campaign
This is our initial fundraiser of the school year. We are asking each family to donate $250 per child , but we will accept donations of any amount. We also have higher giving options that are paired with benefits you and your children may enjoy (email PTA@srepta.com for this form). Tax Id # 23-7059941
Kona Ice Days
Enjoy an old fashioned shaved ice from Kona Ice! We will be partnering with Kona Ice and their Kurbside Kona Delivery! Keep an eye on upcoming events where you'll be able to pre-order Kona Ice and have it delivered! Space is limited so be sure to pre-order as soon as events are announced. San Ramon will receive a donation of 20% for each order!
Dine and Donate
Enjoy a night off from cooking! Eat at a local restaurant and support our school. Just mention San Ramon Elementary School and the PTA will receive a percentage of the proceeds. These will take place once a month and are advertised via the Splash newsletter and Konstella.
Box Tops
Box Tops is changing to fit today's families. The new and improved Box Tops mobile app uses state-of-the-art technology to scan your store receipt, find participating products and instantly add Box Tops to your school's earnings online.
Pay to Plays
Pay a small fee to have your child enjoy a one of a kind activity. Examples include: Lunch with their teacher in the garden, after school movie, hiking expedition, pool party, holiday crafting, etc. If you are interested in hosting a pay to play please email PTA@srepta.com